Discover more from Yet Another Value Blog
Yet Another Value Blog applies a modern value investor's eye to quirky special situations and investing.
Over 20,000 subscribers
Why the big decline, AMC? $AMC
Key investment thesis: AMC (disclosure: long) shares have recently dramatically under performed peers RGC and CNK (disclosure: short a non-life altering amount of both as a hedge), providing investors with an opportunity to invest in the company at a below peer valuation despite better growth prospects.
AMC is the largest movie theater exhibitor in the world. Their merger with Carmike in late 2016 made them the largest operator in the U.S., while their Odeon and Nordic mergers in late 2016 / early 2017 left them as the #1 player in Europe as well.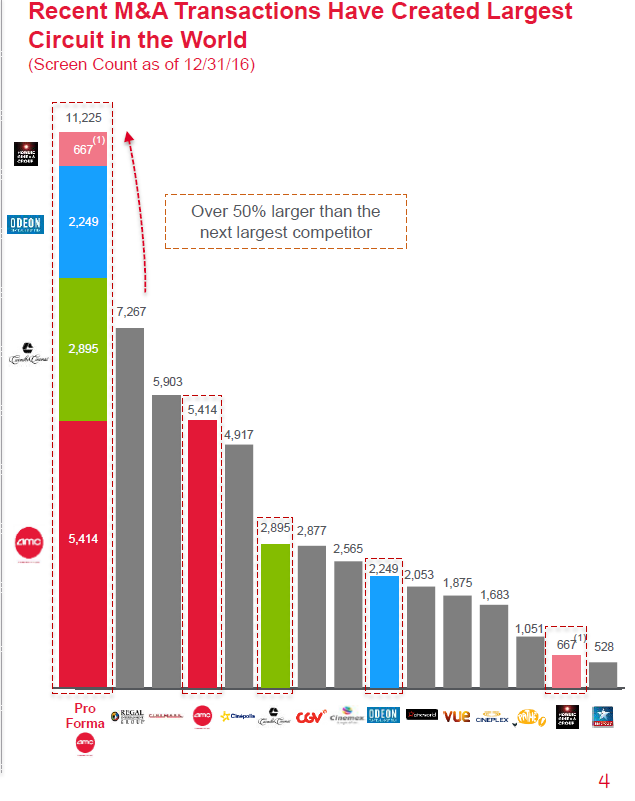 The core thesis here is that, at today's share prices (~$23), AMC is trading at a discount to its U.S. peers (CNK and RGC) but it likely deserves a premium. I believe AMC deserves a premium for three reasons.
Earnings tailwind: AMC is now the largest player in both the U.S. and the world. There are some scale benefits to being the largest player in a given market. The largest scale benefit is your ability to negotiate film costs with the major studios. As a general rule of thumbs, box office admissions are split roughly evenly between the studio and the movie theater, but generally larger theaters can negotiate a slightly better box office split than their smaller peers. For example, in FY15, Carmike paid studios 56.5% of admissions revenue, while legacy AMC paid studios just 54%. The table below shows AMC, Regal, Carmike, and Cinemark's Film Costs, Admissions revenue, and attendance for fiscal year 2015. As you can see, more attendance and larger admissions generally resulted in better film cost %.

AMC is now the largest US player in admission by far, with Q1'17 attendance ~25% higher than RGC and 44% higher than CNK. Despite this, AMC's film cost as a % of admissions revenue in Q1 was closer to CNK than it was to RGC. As AMC fully integrates CKEC and renegotiates its film studio contracts, I'd expect film costs to come down over time, resulting in an earnings tailwind over time. Given that earnings tailwind (and assuming all), you'd think AMC should trade at a higher LTM multiple because they'll have higher built in earnings growth. Despite this, AMC trades in line with peers currently.
Euro multiples: ~25% of AMC's value comes from its European theaters (its current EV is ~$7.7B, and they spent about $2.1B on Odeon and Nordic). European theaters trade for higher multiples for a combination of reasons (lower tax rate, more diverse revenue streams given local movies + American movies, lower penetration allows for higher growth, lower interest rates, etc). Given a quarter of AMC's value comes from a group that probably deserves a higher multiple, the implied EV multiple for AMC's U.S. theaters is well below peers. The slide below is a bit stale (I pulled it from an AMC investor deck), but it does a good job of highlighting this.
NOLs- AMC has significant NOLs that shield them from taxes. From their 10-Ks, AMC has $257m of state NOLs, $562m of federal NOLs, and $460m of foreign NOLs. Regal has $84m in federal NOLs; CNK doesn't appear to have any. This results in a significantly lower amount of cash taxes for AMC; for example, in 2016 AMC paid $4.7m in cash taxes on ~$150m in EBT; in contrast, RGC paid $102m on $282m in EBT and CNK paid $93m on $361m in EBT. Eventually, AMC will use all of those NOLs up (or they'll expire), but for the next few years AMC will likely pay a lower tax rate than its peers. This means its EBITDA should convert to after tax cash flow at a higher rate than peers, which deserves a premium EV / EBITDA multiple vs. peers.
The question I keep coming back to is why has AMC's stock sold off so hard? In other words, why has this opportunity presented itself?
Everyone's first stab at the reason for the decline is "o, the movie theater window is going to close, and the market is discounting the lost profits." Currently, movie theaters have the exclusive rights to movies for ~100 days before they go into pay per view, streaming, DVDs, etc. Movie studios are always pressing to shorten this window because doing so allows them to spend less on marketing (currently, a studio needs to advertise a movie when it comes out and again when it goes on to DVD. If you could release the DVD while movies were still in theaters, you could consolidate that marketing and save a bunch of money). Window shortening is certainly a risk and I'll discuss it later, but I can't see it being the reason for AMC's sell off because only AMC has sold off, not any of its peers.
So is there something AMC specific?